Eurostat reported that retail sales volumes rose by 0.7% in the euro area, and 0.4% across the wider European Union in August. July's data was also revised higher, showing consumers weren't as cautious about spending as first thought.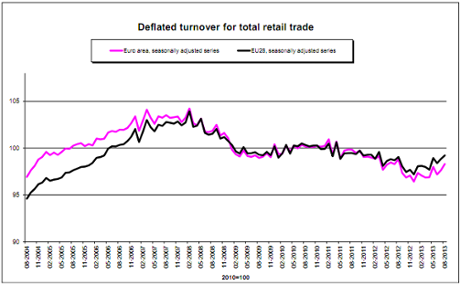 Eurostat's data shows that non-food shopping was strong, rising by 0.6% in the eurozone. That covers items such as computers, clothing and medical products.
The data also showed an increase in fuel purchases, suggesting a rise in motor journeys. Spending on "automotive fuel in specialized stores" (that's petrol stations to you and me) was up by 0.9% across euro members.
The eurozone recovery is gathering pace, with its private sector firms reporting the biggest leap in activity since June 2011 last month.
Data firm Markit's monthly surveys of companies across the single currency showed a solid rise in activity.
New business has picked up, and the rate of job cuts may finally be slowing to a halt.
Markit's monthly survey of activity came in at 52.2, up from August's 51.5. Both service sector firms and manufacturers said conditions were better.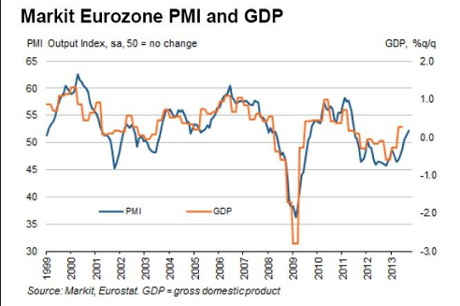 Ireland: 55.7 2-month low
Germany: 53.2 2-month low
Italy: 52.8 29-month high
France: 50.5 20-month high
Spain: 49.6 2-month low
The news comes hours after China's service sector output hit a 6-month high.
Chris Williamson, chief economist at Markit, said the eurozone data showed Europe's recovery on track, despite Spain's private firms faltering after a better August.